How to install Curl on Windows 10
Here is the step by step guideline to install curl on windows 10 machine.
Step 1. Download curl from the official website https://curl.haxx.se/download.html download page.  Choose your operating system version.

Step 2: After download, extract the zip file and copy curl.exe  from src/ folder to your desired directory. In my case I have copied it in C:\curl 

Step 3: Open windows command prompt and change directory to where you have copied the curl.exe and invoke curl.exe command.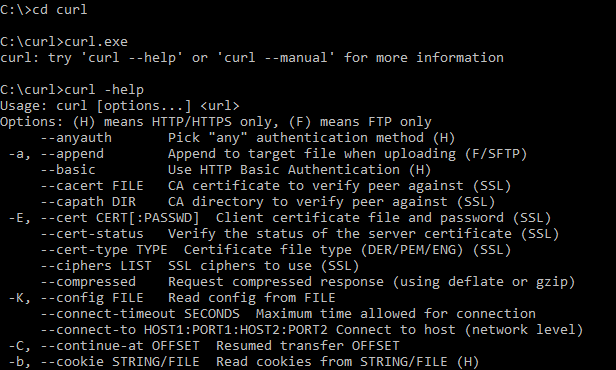 You can enter curl --help to see a list of cURL commands.
Thanks !!
How to install Curl on Windows 10

https://techieroop.com/how-to-install-curl-on-windows-10/

Tips and Tricks

Windows

curl,windows

Here is the step by step guideline to install curl on windows 10 machine.Step 1. Download curl from the official website https://curl.haxx.se/download.html download page.  Choose your operating system version.Step 2: After download, extract the zip file and copy curl.exe  from src/ folder to your desired directory. In my case I have...

Here is the step by step guideline to install curl on windows 10 machine.<strong>Step 1.</strong> Download curl from the official website<a href="https://curl.haxx.se/download.html"> https://curl.haxx.se/download.html</a> download page.  Choose your operating system version.<a href="http://techieroop.com/wp-content/uploads/2017/03/Download.png"><img class="aligncenter size-full wp-image-736" src="http://techieroop.com/wp-content/uploads/2017/03/Download.png" alt="" width="683" height="188" /></a>Step 2: After download, extract the zip file and copy <strong>curl.exe </strong> from src/ folder to your desired directory. In my case I have copied it in <strong>C:\curl </strong><a href="http://techieroop.com/wp-content/uploads/2017/03/ExtractCurl.png"><img class="aligncenter size-full wp-image-737" src="http://techieroop.com/wp-content/uploads/2017/03/ExtractCurl.png" alt="" width="787" height="125" /></a>Step 3: Open windows command prompt and change directory to where you have copied the <strong>curl.exe</strong> and invoke curl.exe command.<a href="http://techieroop.com/wp-content/uploads/2017/03/runcurl.png"><img class="aligncenter size-full wp-image-738" src="http://techieroop.com/wp-content/uploads/2017/03/runcurl.png" alt="" width="616" height="370" /></a>You can enter <code>curl --help</code> to see a list of cURL commands.Thanks !!

Roopendra

https://plus.google.com/+Techieroopendra

Roopendra

Vishwakarma

roopendramca@gmail.com

Administrator

I'm Roopendra Vishwakarma, a DevOps Engineer and Blogger from India. I have experience in DevOps, Web Development and various Open Source Technology. I mostly write about latest technology, getting started tutorial and tricks and tips.

TechieRoop
(Visited 6,982 times, 230 visits today)