How to install Maven on Windows 10
How to install Maven on Windows 10
In order to install maven on a Windows machine you will need to install JDK first as Maven is a Java based tool. If you are installing Maven 3.3 then you required JDK version 1.7 or above.
If JDK is already installed on your Windows machine then you can jump to maven installation steps which I have mentioned below. To install JDK you may refer my earlier post for step by step guideline.
Steps to install Maven on Windows 10
Set JAVA_HOME path
Download Maven Zip
Setup environment variable for Maven (M2_HOME)
Verify installation
1) Setup JAVA_HOME
Please make sure you have set the JAVA_HOME path after installation of the JDK. You may refer my previous article to setup JAVA_HOME path in Windows machine.
2) Download Maven Zip
Download maven zip file from the official website and extract it to the directory you wish to install. And configure the environment variable. I have downloaded apache-maven-3.5.0-bin.zip under C:\Program Files\Maven for demonstration purpose.

3) Add new environment variables for Maven (M2_HOME) and append it to the PATH variable
Add M2_HOME variables in the Windows environment variable, and point it to your Maven folder.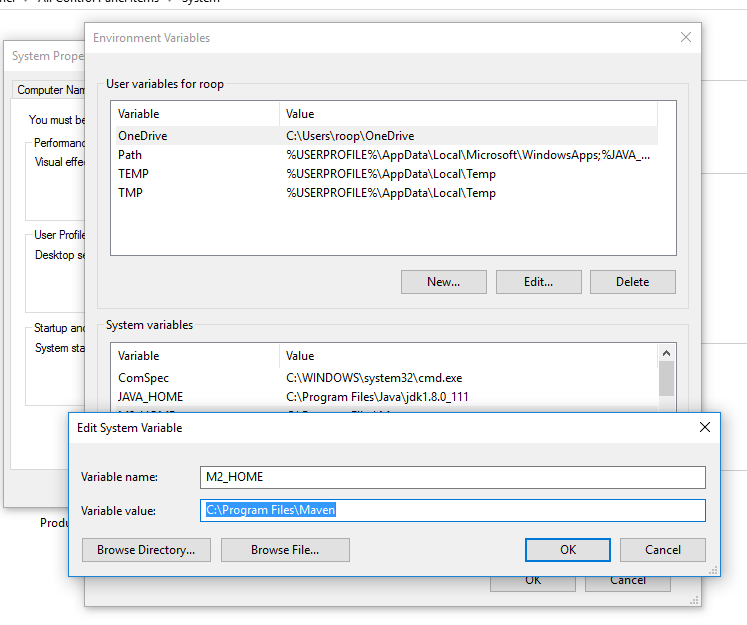 Update PATH variable and append maven bin folder %M2_HOME%\bin to PATH variable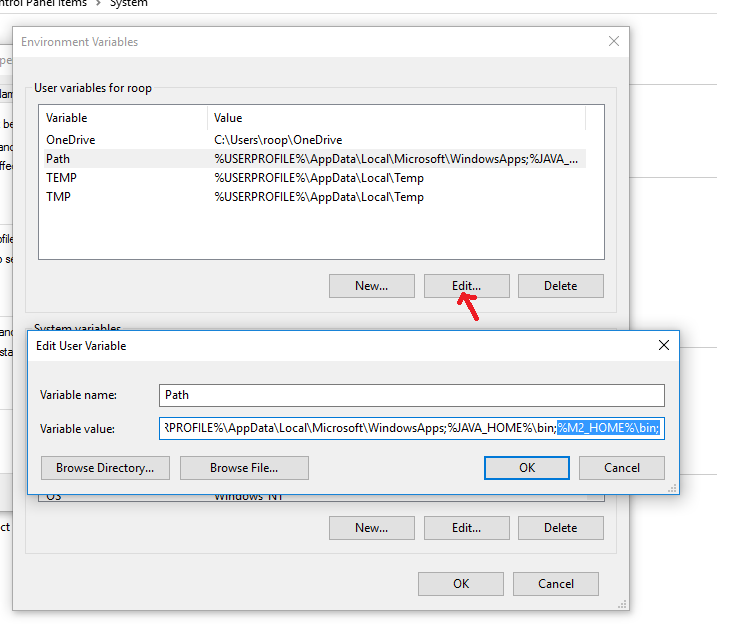 4) Verify Installation
Go to windows command line and verify maven setup.
mvn -version

How to install Maven on Windows 10

http://techieroop.com/how-to-install-maven-on-windows-10/

http://techieroop.com/wp-content/uploads/2017/08/maven_installtion_on_window10_techieroop_com.jpg

http://techieroop.com/wp-content/uploads/2017/08/maven_installtion_on_window10_techieroop_com-150x150.jpg

DevOPS

Maven

Maven,maven-installation,maven-windows,windows

How to install Maven on Windows 10 In order to install maven on a Windows machine you will need to install JDK first as Maven is a Java based tool. If you are installing Maven 3.3 then you required JDK version 1.7 or above.If JDK is already installed on your...

<h2>How to install Maven on Windows 10</h2> In order to install maven on a Windows machine you will need to install JDK first as Maven is a Java based tool. If you are installing Maven 3.3 then you required JDK version <strong>1.7</strong> or above.If JDK is already installed on your Windows machine then you can jump to maven installation steps which I have mentioned below. To install JDK you may refer my <a href="http://techieroop.com/how-to-install-java-8-on-windows/">earlier post</a> for step by step guideline.Steps to install Maven on Windows 10 <ol> <li>Set JAVA_HOME path</li> <li>Download Maven Zip</li> <li>Setup environment variable for Maven (M2_HOME)</li> <li>Verify installation</li> </ol> <h3>1) Setup JAVA_HOME</h3> Please make sure you have set the JAVA_HOME path after installation of the JDK. You may refer my previous article to setup JAVA_HOME path in Windows machine.http://techieroop.com/how-to-set-java_home-path-in-windows-10/ <h3>2) Download Maven Zip</h3> Download maven zip file from the <a href="http://maven.apache.org/download.cgi">official website</a> and extract it to the directory you wish to install. And configure the environment variable. I have downloaded <a href="http://redrockdigimark.com/apachemirror/maven/maven-3/3.5.0/binaries/apache-maven-3.5.0-bin.zip">apache-maven-3.5.0-bin.zip</a> under <strong>C:\Program Files\Maven</strong> for demonstration purpose.<a href="http://techieroop.com/wp-content/uploads/2017/08/Copy-Maven-Bin.png"><img class="aligncenter size-full wp-image-773" src="http://techieroop.com/wp-content/uploads/2017/08/Copy-Maven-Bin.png" alt="" width="731" height="222" /></a> <h3>3) Add new environment variables for Maven (M2_HOME) and append it to the PATH variable</h3> Add <strong>M2_HOME</strong> variables in the Windows environment variable, and point it to your Maven folder.<a href="http://techieroop.com/wp-content/uploads/2017/08/setup_m2_home.png"><img class="aligncenter size-full wp-image-775" src="http://techieroop.com/wp-content/uploads/2017/08/setup_m2_home.png" alt="" width="747" height="625" /></a>Update <strong>PATH</strong> variable and append maven bin folder <strong>%M2_HOME%\bin</strong> to <strong>PATH</strong> variable<a href="http://techieroop.com/wp-content/uploads/2017/08/Append-Path.png"><img class="aligncenter size-full wp-image-776" src="http://techieroop.com/wp-content/uploads/2017/08/Append-Path.png" alt="" width="731" height="629" /></a> <h3>4) Verify Installation</h3> Go to windows command line and verify maven setup. <pre>mvn -version</pre> <a href="http://techieroop.com/wp-content/uploads/2017/08/verify-maven-installation.png"><img class="aligncenter size-full wp-image-774" src="http://techieroop.com/wp-content/uploads/2017/08/verify-maven-installation.png" alt="" width="731" height="165" /></a>

Roopendra

https://plus.google.com/+Techieroopendra

Roopendra

Vishwakarma

roopendramca@gmail.com

Administrator

I'm Roopendra Vishwakarma, a DevOps Engineer and Blogger from India. I have experience in DevOps, Web Development and various Open Source Technology. I mostly write about latest technology, getting started tutorial and tricks and tips.

TechieRoop
(Visited 1,399 times, 210 visits today)