How to Book Freedom 251 Smartphone Online
Book worlds cheapest smartphone online. Booking for the Freedom 251 smartphone will began on 18th February, 6am and close on 21st February 8pm. As per the company cart page guideline this phone will be delivered in 4 months. Price of this smartphone is only Rs. 251 .
How to Book Freedom 251 Smartphone Online
1) Go to company's website http://www.freedom251.com/. You will see the Buy button on the Home Page.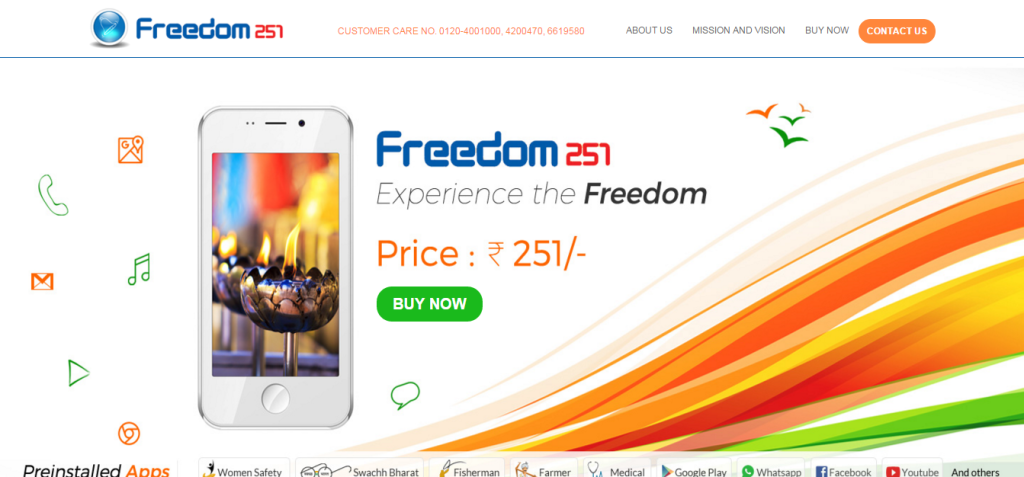 2) After clicking on buy button It will redirect to Cart page. In cart page you will see an option to choose quantity, Shipping charges (Rs. 40) and Expected delivery date of Freedom 251 smartphone.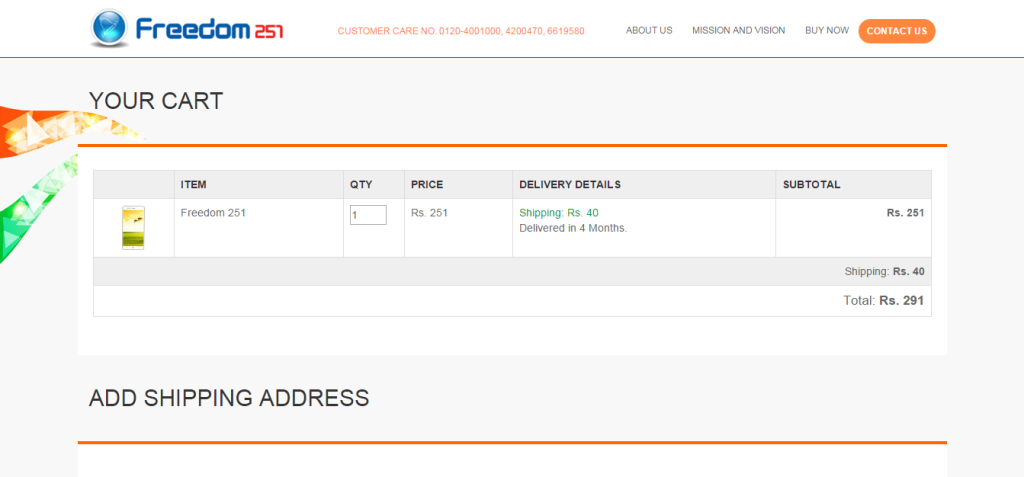 3) Enter Shipping details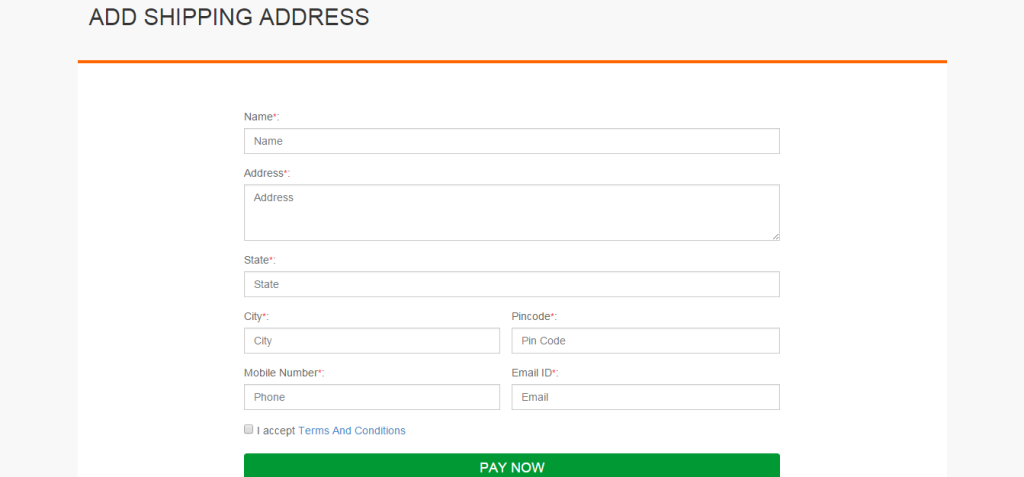 4) Next step will redirect you to Order Placed page. Since 19th Feb company stopped direct payment mode. Now they will provide email you the link for payment within 48 hours.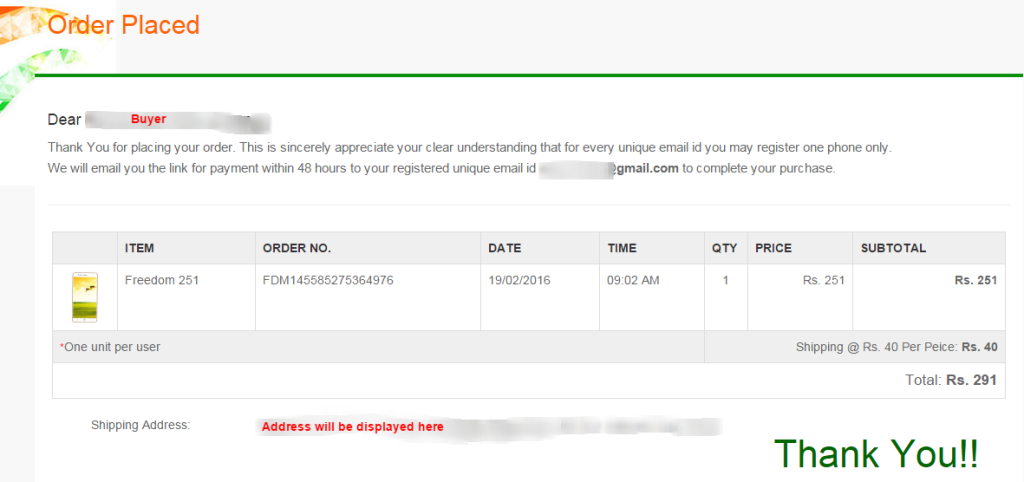 Freedom 251 Mobile Phone Specifications:
Display – 4.00 inch (10.2) qHD IPS Display
Rear Camera – 3.2 Megapixel
Front Camera – 0.3 Megapixel
Processor – 1.3 GHz Quadcore Processor
RAM – 1 GB
Internal Memory – 8GB
SD Card Support– Yes (Expendable up to 32GB)
Battery Capacity – 1450 mAH
Android Version – 5.1 Lollipop
About the Manufacture of Freedom 251 
Manufacture of this phone is Noida Based Ringing Bells Pvt. Ltd. which is Established in 2015.
Note: As per the official website announcement,  Booking of the Freedom 251 smartphone has been closed of phase 1. 
How to Book Freedom 251 Smartphone Online

http://techieroop.com/how-to-book-freedom-251-smartphone-online/

http://techieroop.com/wp-content/uploads/2016/02/Freedom-251-Smartphone.png

http://techieroop.com/wp-content/uploads/2016/02/Freedom-251-Smartphone-150x150.png

Gadgets

Technology

freedom251,freedom251 smartphone,smartphone

Book worlds cheapest smartphone online. Booking for the Freedom 251 smartphone will began on 18th February, 6am and close on 21st February 8pm. As per the company cart page guideline this phone will be delivered in 4 months. Price of this smartphone is only Rs. 251 . How to Book Freedom...

Book worlds cheapest smartphone online. Booking for the <a href="http://techieroop.com/tag/freedom251/#.VsX__fl97cc" target="_blank">Freedom 251</a> smartphone will began on 18th February, 6am and close on 21st February 8pm. As per the company cart page guideline this phone will be delivered in 4 months. Price of this smartphone is only Rs. 251 . <h3>How to Book Freedom 251 Smartphone Online</h3> <strong>1)</strong> Go to company's website <a href="http://www.freedom251.com/" target="_blank">http://www.freedom251.com/</a>. You will see the Buy button on the Home Page.<strong>2) </strong>After <span id="GingerWidget-correction-0" class="correction alternate">clicking</span> on buy button It will redirect <span id="GingerWidget-correction-1" class="correction alternate">to</span> Cart page. In cart page you will see <span id="GingerWidget-correction-2" class="correction alternate">an option</span> to choose quantity, Shipping <span id="GingerWidget-correction-3" class="correction alternate">charges</span> (Rs. 40) and Expected delivery date of Freedom 251 smartphone.<a href="http://techieroop.com/wp-content/uploads/2016/02/Freedom-251-shipping.png" rel="attachment wp-att-521"><img class="aligncenter wp-image-521 size-large" src="http://techieroop.com/wp-content/uploads/2016/02/Freedom-251-shipping-1024x477.png" alt="Freedom 251-shipping" width="1024" height="477" /></a><strong>3)</strong> Enter Shipping details<a href="http://techieroop.com/wp-content/uploads/2016/02/Freedom-251-3.png" rel="attachment wp-att-520"><img class="aligncenter wp-image-520 size-large" src="http://techieroop.com/wp-content/uploads/2016/02/Freedom-251-3-1024x477.png" alt="Freedom 251 -3" width="1024" height="477" /></a>4) Next step will redirect you to Order Placed page. Since 19th Feb company stopped direct payment mode. Now they will provide email you the link for payment within 48 hours.<strong><a href="http://techieroop.com/tag/freedom251/#.VsX__fl97cc" target="_blank">Freedom 251</a> Mobile Phone Specifications:</strong> <ul> <li><strong>Display</strong> – 4.00 inch (10.2) qHD IPS Display</li> <li><strong>Rear Camera</strong> - 3.2 Megapixel</li> <li><strong>Front Camera</strong> - 0.3 Megapixel</li> <li><strong>Processor</strong> - 1.3 GHz Quadcore Processor</li> <li><strong>RAM</strong> - 1 GB</li> <li><strong>Internal Memory</strong> - 8GB</li> <li><strong>SD Card Support</strong>- Yes (Expendable up to 32GB)</li> <li><strong>Battery Capacity</strong> - 1450 mAH</li> <li><strong>Android Version</strong> - 5.1 Lollipop</li> </ul> <a href="http://www.freedom251.com/" target="_blank">Book Now</a><strong>About the Manufacture of <a href="http://techieroop.com/tag/freedom251/#.VsX__fl97cc" target="_blank">Freedom 251 </a></strong>Manufacture of this phone is Noida Based <em><strong>Ringing Bells Pvt. Ltd</strong></em>. which is Established in 2015.<strong>Note: As per the official website announcement,  Booking of the Freedom 251 smartphone has been closed of phase 1. </strong>http://techieroop.com/how-to-port-your-number-to-reliance-jio-4g/http://techieroop.com/letv-le-1s-silver-32-gb-smartphone-specification/

Roopendra Vishwakarma

https://plus.google.com/u/0/+RoopendraVishwakarma

Roopendra

Vishwakarma

roopendra.vishwakarma@gmail.com

Administrator

I'm Roopendra Vishwakarma, a Programmer and Blogger from India. I have experience in Web Development and Open Source Technology. I mostly write about latest technology, getting started tutorial and tricks and tips.

TechieRoop
(Visited 24,680 times, 3 visits today)